All Roads Lead Cricket Fans to the Narendra Modi Stadium: The ICC Men`s World Cup 2023 Final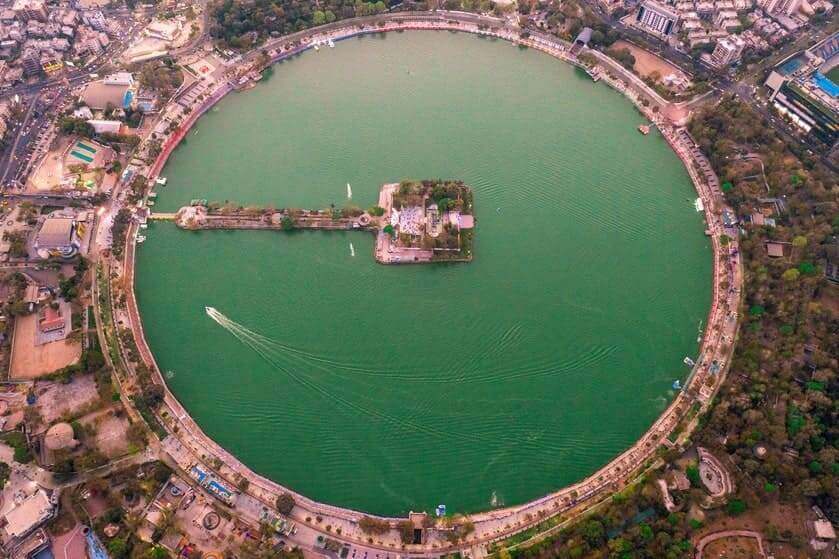 Mark your calendars for an electrifying spectacle in the world of cricket as the grand finale of the ICC Men's World Cup 2023 Final is set to light up the Narendra Modi Stadium in Ahmedabad on Thursday, November 19. This guide details how to reach Ahmedabad and the stadium seamlessly and also explores the city's rich tapestry of cuisine, history, and shopping.
How Cricket Fans Can Reach Ahmedabad and Return to Their Base?
Having set the stage for what awaits in Ahmedabad during the cricket World Cup final, let us guide you through the practicalities of your journey. From the moment you land in this bustling city, the avenues to reach your cricket destination are manifold and well-facilitated.
Read on to discover the most efficient modes of transport to enhance your World Cup experience.
Sardar Vallabhbhai Patel International Airport
Visitors attending the ICC Men's World Cup 2023 at the Narendra Modi Stadium in Ahmedabad, boasting a capacity of 132,000, can expect seamless travel via the Sardar Vallabhbhai Patel International Airport (SVPI), which accommodated over 10 million passengers and managed upwards of 80,000 aircraft movements in the 2022-23 fiscal year. As the seventh-busiest airport in India, SVPI offers an array of domestic and international flights, ensuring a convenient journey for cricket fans.
With all seats likely to be filled for the final, a full house will enjoy the facilities and services of this airport, located just 8.4 km from the stadium—a short 17-minute drive along the Gandhinagar-Ahmedabad Road.
Ahmedabad Railway Station
Ahmedabad Railway Station connects travelers directly to the excitement of cricket matches. Efficiently linking major Indian cities such as Mumbai, Delhi, Jaipur and Udaipur, the station has essential services and helpful staff to ensure a smooth and pleasant journey for all cricket fans.
Road: National Expressway 1
For fans driving to the matches, National Expressway 1 offers a quick link between Ahmedabad and Vadodara, cutting down travel time and ensuring a fast track to the cricketing action.
How Can Cricket Fans Reach the Narendra Modi Stadium?
The final leg to the Narendra Modi Stadium is straightforward. Opt for a quick taxi ride, use the local metro service with a stop close to the stadium, or hop on the Bus Rapid Transport System (BRTS) for a direct route. These convenient options ensure that fans can reach the excitement of the match with ease.
For those arriving by air or train, Ahmedabad Metro connects key points like the airport and railway station to the stadium area, ensuring no fan misses the opening toss. With the Gujarat State Road Transport Corporation (GSRTC) providing extensive bus services and a plethora of taxis and rickshaws on standby, accessing the stadium from any part of the city is convenient and efficient. Whether you prefer the independence of a private car or the local flavor of a bus ride, reaching the cricketing action is straightforward and hassle-free.
For cricket fans planning to witness the electrifying atmosphere at Narendra Modi Stadium, here's how to get there by local means like metro railway networks in India:
Metro Rail
The closest metro stop is the Motera Metro Station, a mere 1.5 kilometers from the stadium. A short taxi or auto-rickshaw ride can bridge the gap with ease.
Road: Bus/Cab
Indiranagar, the nearest bus stand, offers frequent services, while taxis or app-based cabs provide a more direct route to the stadium.
What to Explore in Ahmedabad?
Ahmedabad offers a cornucopia of experiences for visitors, from delectable culinary delights to sports tourism and vibrant markets for the ultimate shopping experience.
For Foodies:
Manek Chowk Food Court in Ahmedabad: It's home to a wide variety of street food vendors, serving up everything from dabeli to dhokla to jalebi. The atmosphere is electric, and the food is delicious and affordable.
Agashiye restaurant in Ahmedabad: This rooftop restaurant offers stunning views of the city and serves up some of the best Gujarati thalis in Ahmedabad.
Vishalla restaurant in Ahmedabad: This popular restaurant is known for its authentic Gujarati cuisine. The menu features a wide variety of dishes, from Gujarati specialties like dhokla and khaman to more traditional Indian dishes like butter chicken and biryani.
Swati Snacks restaurant in Ahmedabad: This vegetarian snack shop is a popular spot for a quick bite. The menu features a variety of snacks, from samosas to dahi puri to sev puri.
House of MG restaurant in Ahmedabad: This restaurant is located in a 1920s-era mansion and serves up some of the best fine dining in Ahmedabad.
For History Buffs:
History enthusiasts can delve into India's heritage at the Sabarmati Ashram, the tranquil abode of Mahatma Gandhi, and wander through the ancient Bhadra Fort. Kankaria Lake offers picturesque views, and the intricate carvings of Adalaj Stepwell are a testament to the architectural prowess of bygone eras.
For Shoppers:
Shoppers can revel in the bustling Lal Darwaja and Sindhi markets for textiles and handicrafts. Dhalgarwad's traditional attire and Law Garden Night Market's vibrant atmosphere offer a treasure trove for those seeking the essence of Gujarati craft and apparel. These markets present an array of items reflecting Gujarat's rich tapestry of culture.
As the final of the ICC Men's Cricket World Cup draws near there will be a surge in the number of fans heading to Narendra Modi Stadium in Ahmedabad. Businesses across the city need to step up their game and make sure they have supplies for hospitality, and urban transport infrastructure. With railway stations, roads and top airports in India expected to experience an influx of people it is crucial to have seamless coordination and sufficient materials to manage crowds efficiently and ensure everyone's safety.

In this scenario, Moglix stands out as a specialist in procurement. They are well equipped to offer a range of supplies and infrastructure supply chain solutions that will help businesses meet the demands of this exciting sporting event with the utmost efficiency. If you want information about how Moglix can assist with construction raw materials procurement solutions, visit the website.